The Technology Services Department would like to better support your tech needs!
By having a centralized ticketing system, we can be more organized and efficient, and be able to pool resources to expedite assistance to you.
Please help us better serve you by submitting a ticket whenever you need help or have a question.
How do you submit a support ticket? We offer two options:
Option 1 (Preferred): Please fill out the "Submit a request" form.* We'll walk you through the info we need to best help you.
Access the form by logging into your @hartdistrict.org GMail account, click on the waffle icon

, and scroll down to the green Zendesk icon.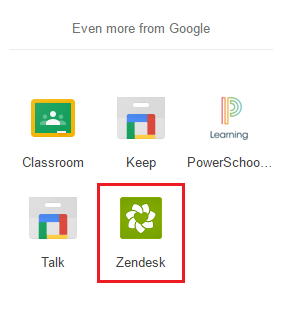 OR, go to http://support.hartdistrict.org,Sign in with your @hartdistrict.org Google account, and choose "Submit a request" link on the upper-right corner.
Option 2: Email your respective tech support email address. There's an unique address for each site/location, which will generate a ticket for the appropriate group of support staff.*
The format is xxtech@hartdistrict.org where xx is the site/location code.
Full list of tech support email addresses:
actech@hartdistrict.org, aoctech@hartdistrict.org, astech@hartdistrict.org, botech@hartdistrict.org, catech@hartdistrict.org, gotech@hartdistrict.org, gvtech@hartdistrict.org, hatech@hartdistrict.org, hhtech@hartdistrict.org, lmtech@hartdistrict.org, lptech@hartdistrict.org, pltech@hartdistrict.org, rntech@hartdistrict.org, rptech@hartdistrict.org, satech@hartdistrict.org, sqtech@hartdistrict.org, svtech@hartdistrict.org, vatech@hartdistrict.org, wrtech@hartdistrict.org
* Only valid @hartdistrict.org accounts/addresses can submit or email tickets.
Please be as detailed as possible in your subject and description so we have enough information to expedite an answer and/or solution.
Once you've submitted a ticket, you'll receive an email of your ticket # and information. You will receive email updates when tickets are updated by support staff. In addition, you can see all your active and solved tickets from your profile in the ticketing system. Click on your name on the upper-right corner, and choose My activities. You can update your tickets from there too!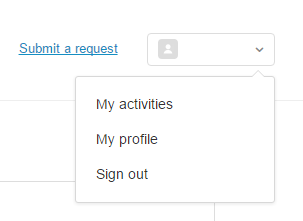 The ticketing system is also our new support website! http://support.hartdistrict.org houses useful information and resources. We will continue to add helpful content there.
We realize this is a change from what you're used to and we truly appreciate your understanding and cooperation to help us improve our service to you!